Submitted by John T. Haller on February 18, 2009 – 4:42pm

PortableApps.com is proud to announce the release of OpenOffice.org Portable 3.0.1 in Dutch, English, French, German, Hungarian, Italian, Japanese, Polish, Portuguese, Russian, Simplified Chinese and Spanish. It's the popular OpenOffice.org office suite bundled with a PortableApps.com launcher as a portable app so you can edit your documents, spreadsheets and presentations on the go. This latest release updates OpenOffice.org 3.0.1, has an improved installer and adds 6 languages to our supported packages and was done with cooperation from the OpenOffice.org team. It's packaged in PortableApps.com Format so it can easily integrate with the PortableApps.com Suite. And it's open source and completely free.
Features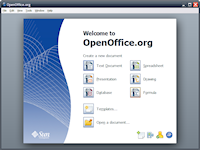 OpenOffice.org Portable is a full-featured office suite that's compatible with Microsoft Office, Word Perfect, Lotus and other office applications. It's easy-to-use and feature-rich, performing nearly all of the functions you'd expect in an office suite, but at no cost. Learn more about OpenOffice.org…
New in This Release
This release updates OpenOffice.org to 3.0.1 (release notes) and features an improved installer. The new version has a better support for the linuistic components and works better on systems without local installed MSVCRT runtime. Packages in Dutch, Hungarian, Polish, Portuguese, Russian and Spanish were also added.